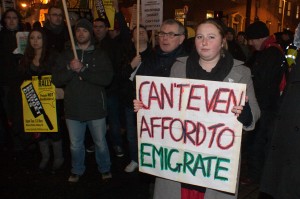 Solidarity statement from the European Attac Network to the Irish Congress of Trade Unions:
Don't owe – don't pay!
We, the European Attac Network, which met in Lisbon on 11th- 13th January, wish to express our solidarity with the Irish people and the Irish Congress of Trade Unions in the struggles against the unfair debt burden put on the shoulders of the Irish people. On the 9th of February when you are on the streets we are with you.
The socializing of the debt caused by the reckless speculation of banks is causing brutal cuts in public budgets, unemployment and social deprivation across Europe. We support your demand of a deal on the debt that puts the social and human rights of the citizens before debt service. There is no way forward for the European societies and welfare states with the unsocial and undemocratic crisis policies of the EU today.
We share your concern and rage against the authoritarian policies ordered by the Troika on the EU member states and their people. The people of Europe are paying for a crisis that they did not cause. We need to address the ones responsible for the failed crisis policies, and reject their attempt to set Europeans up against each other.
We wish you success on the 9th February! Your struggle is our struggle!
-The European Attac Network
Lisbon, 13th January 2013